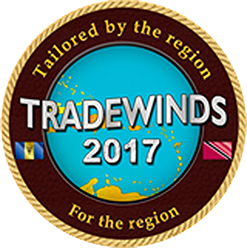 Exercise TRADEWINDS 2014
Exercise TRADEWINDS 14 was the 30th iteration in the exercise series and took place from 1 to 25 June in the Caribbean.
The exercise involved ships, aircraft and personnel from 16 nations, including: Antigua & Barbuda, Belize, Canada, Dominica, Dominican Republic, Grenada, Guyana, Haiti, Jamaica, Netherlands (Dutch Caribbean Coast Guard), St. Kitts & Nevis, St. Vincent & Grenadines, Suriname, Trinidad and Tobago and the U.S.
Exercise TRADEWINDS 2015
Exercise TRADEWINDS 15 included two distinct phases running from 31 May to 9 June in St. Kitts & Nevis, and from 15-24 June in Belize. The exercise involved ships, aircraft and personnel from 19 nations and key regional organizations.
Exercise TRADEWINDS 2016
Exercise TRADEWINDS 16 took place during two distinct phases running from June 5 to 14, 2016, in Grenada, and from June 20 to 28, 2016, in Jamaica. The exercise involved ships, aircraft and personnel from more than 20 participant nations and several key regional organizations.
Exercise TRADEWINDS 2017
Exercise TRADEWINDS 17 will take place during two distinct phases officially in Barbados on Tuesday June 6, 2017 and end on Saturday June 17, 2017 in Trinidad and Tobago. The exercise this year will adopt a different approach, unlike previous exercises where participants would be trained during the exercise and thereafter we test and evaluate said capabilities. Barbados, however, is seeking to implement an innovative and more efficient approach.

Information about the upcoming Exercise TRADEWINDS 2017 is now just a mouse click away and those persons who are desirous of signing-up as volunteers are being invited to visit the official website at www.exercisetradewinds2017.barbados.gov.bb.
They may also like the Facebook page by typing in Exercise TRADEWINDS 2017 for more information and updates. The official website and Facebook page were officially launched at Hodgson Hall, St. Ann's Fort yesterday.
Public Relations Officer for the TRADEWINDS Secretariat, Lieutenant Mark Jemmott, explained that the website would give everyone the unique opportunity to see the planning process of the exercise through the eyes of the Secretariat, and later as participants.
He added that the website would provide visitors with information about the history of the exercise, what it entails, its purpose, objectives and the number of participating countries.
"There will [also] be a news feed where, on a daily basis, the Secretariat will update you on all exercise-related activities," Lieutenant Jemmott said, noting visitors to the site could also access a photo and video gallery to view past TRADEWINDS exercises.
The Public Relations Officer also encouraged persons to register as volunteers in a number of humanitarian assistance and disaster relief related exercises via the site and to familiarise themselves with details about the exercise via the Facebook page.
"The public relations team in collaboration with the Barbados Government Information Service will endeavor to keep you informed of all TRADEWINDS engagements," Lieutenant Jemmott concluded.
The first phase of Exercise TRADEWINDS will be staged in Barbados from June 6 to 12 and conclude in Trinidad and Tobago on June 17. It is being held under the theme: Seamless States Partnership for a Secure Region.
julia.rawlins-bentham@barbados.gov.bb